Robert Anderson
Sturgeon Bay, Wisconsin United States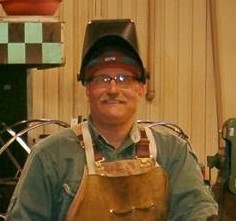 Bio:
Wisconsin-based artist Robert Anderson works in steel. He created his first large garden kaleidoscope with one optical viewing teleidoscope in the later part of the 1990's. Over the past twenty-five years he refined the designs to include additional teleidoscopes mounted at different levels to accommodate viewers of varying stature. Robert's garden kaleidoscopes reside in more than 100 public spaces including, but not limited to, botanical gardens, museums, hospitals, libraries, churches, schools, parks, and hotel resorts and spas. Robert's garden kaleidoscopes are also found in hundreds of corporate and private collections worldwide.
Philosophy:

The inspiration for my work comes from observations of the natural world. I am intrigued with seed pods, characteristics and life cycles of trees and other plant life, land formations, and the natural beauty of flowering plants. I enjoy melding ideas rooted in the natural world with the industrial strength and beauty of raw materials to create interactive living sculptures with a universal connection.
Arboreal Price: $21,500 Buy Arboreal
Year Created: 2022
Size: 90" H, 45" W, 45" D
Media: Steel Sculpture
Mirror systems: 3 Mirror
Description: This garden kaleidoscope is inspired by trees and the natural cycle of new growth from year to year. The scope holders represent the strength of the roots. This piece incorporates metal forging as an integral design element to the work which is exciting to me (see entry photos for close-up details of these elements). The material is steel. The center bowl rotates and there is a drain built-in through the center. Three optical teleidoscopes are mounted at different levels on the sculpture to accommodate viewers of varying stature. The completed schulptue has been powder painted red.
More details for this kaleidoscope can be found in the kaleidoscope gallery.