The Cozette Award
The Cozette Award, introduced at the 2002 convention in New Orleans and first awarded to Cozy Baker, is designed to acknowledge a person (collector, gallery owner, author, teacher, artist, or communicator) whose outstanding achievements and devoted efforts have helped to advance and expand our world of kaleidoscopes.
The Cozette Award was introduced by Sherry Moser, Carolyn Bennett and Charles Karadimos at the beginning of their tenure as Brewster Society directors, and was an award of recognition given to a person who has been an outstanding kaleidoscope ambassador. Cozy Baker was the first winner of the Cozette Award which aptly was named after her. It is designed to acknowledge a member of the Brewster Kaleidoscope Society for their outstanding dedication in promoting and advancing the art and love of kaleidoscopes. The nominee by their continuing support and ongoing activities to promote kaleidoscopes has helped to grow and expand our special world. A person must be a member of the Brewster Kaleidoscope Society to receive the award. Members may submit a nomination to the the board for their consideration. The board members at their discretion select the winner. The Cozette Award is not presented every year.
Cozette Awardees
---
2002 Cozy Baker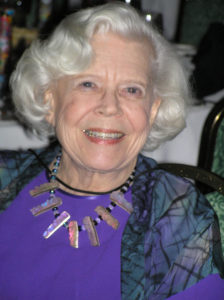 The first Cozette Award was given by that year's convention committee to a very surprised Cozy Baker. The award was designed by Sherry Moser and was a necklace called "Frozen Moments".
From The Summer 2002 NewsScope…
With absolutely no authority (in fact, behind Cozy Baker's back) but with lots of enthusiasm, the Convention Committee presented the first "Cozette" award at the awards luncheon in New Orleans. The Cozette was introduced as an award of recognition for the person who through passion and dedication does the most to share our groups love and appreciation of kaleidoscopes. It is designed to acknowledge anyone – collector, gallery owner, author, teacher, artist, and communicator – whose understanding and support of kaleidoscopes has helped to grow and expand our special world. It is fairly obvious that the first "Cozette" must be awarded to Cozy Baker, and it was – much to her surprise.
---
2003 Corki Weeks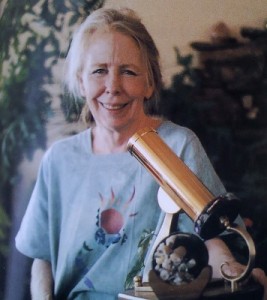 Judith Paul made the following remarks as she presented the Cozette Award to a very deserving and very surprised and appreciative Corki Weeks.
"Corki Weeks has been making scopes for 23 years- over 200,000 of them to date- and has enriched the kaleidoscope world on every level. How many kaleidoscope enthusiasts, overwhelmed at the wonder, and at the affordable prices of Corki's scopes, became avid new collectors? How many retailers put a child through college by selling Corki's wonderful pieces? And how many scope makers, like myself, have been helped, supported and taught by Corki? The numbers would astound you. When an artist needs the source for a part, Corki not only shares the source, but sends him or her a supply to get started. Words are inadequate, but Corki more than adequately exemplifies the true meaning of the Cozette Award, for her commitment, her sharing, her example, her generosity, and her leadership in expanding the world of kaleidoscopes.
She is my hero, my mentor and my friend."
---
2005

Mary Margaret Gibson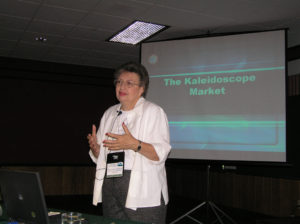 Although many people have made significant contributions to our kaleidoscope community, the directors felt that this year we wanted to award the Cozette Award to Mary Margaret Gibson for her dedicated effort in producing The
Kaleidoscope Collector's Guide
. The guide is written for the person who creates, enjoys, collects, buys and sells, teaches, and researches kaleidoscopes; but,most of all, for the collector. Thank you Mary Margaret for this important contribution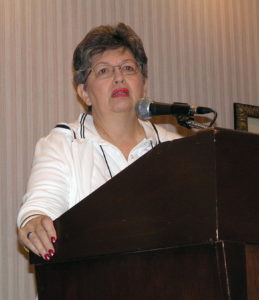 ---
2014 Mary Wills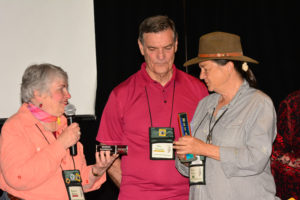 Mary Wills becomes the fourth recipient of the Cozette Award. She was nominated by Corki Weeks and unanimously approved by the BKS board. Mary owns
Nellie Bly
in Jerome, Arizona. Nellie Bly is a unique gallery of kaleidoscopes and art glass located in historic Jerome, Arizona since 1988. They are the largest dealer of kaleidoscopes in the world and feature over 90 kaleidoscope artists. Mary held an annual Kaleidoscope weekend each October from ???? with the last one in 2018.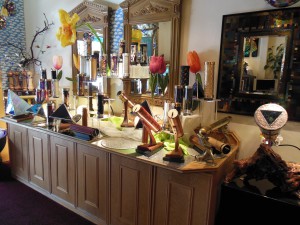 ---
2016 Charles Karadimos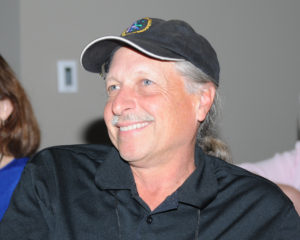 At the Rockville 2016 convention, Charles Karadimos was presented the 6th Cozette Award to be given by the Brewster Kaleidoscope Society. Charles is a charter member of the Brewster Society and has worked with each of the seven exhibits at the Mansion at Strathmore. He has been involved in almost every convention. He has taught and lectured internationally about kaleidoscopes. He acted as one of the directors of the BKS and published the News Scope for ten years before the transition to the current board leadership structure of the BKS. All of this while pursuing the mastering of the perfect kaleidoscope image and the creation of thousands of kaleidoscopes. To Charles, "Kaleidoscopes represent what is important in a harmonious life, great diversity living together in one place, creating order out of chaos." His work is represented in galleries, museums and private collections worldwide. Congratulations, Charles, as the 2016 Cozette Award recipient.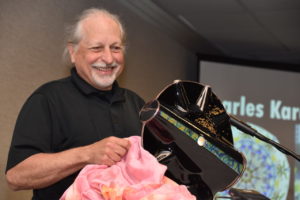 ---

2018 Sherry Moser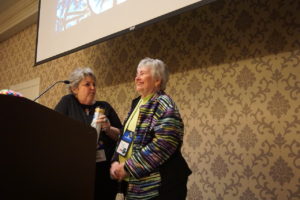 Sherry Moser is a real innovator. We know this because all evidence points to it – she has received two "Creative Ingenuity Awards" and numerous "People's Choice Awards". She was very early to incorporate the black-background, oil-filled object cells, and she pioneered using dichroic coated glass in her work, and she was the first to use dichroic windows. Sherry also developed her own style of liquid-filled ampules and the first to create a dry cell within a liquid cell. She was on the forefront in the development and use of dimensional imagery. Her recognizable lampworking and glass manipulation to create beautiful interiors, and her use of decorative soldering to finish the exteriors set the bar pretty high! Her work can be found in private collections, museums, and galleries worldwide.
She was part of "Cozy's Crew" from the beginning and it inevitable transitioned into being Cozy's right hand. When it was time for Cozy to retire, it was easy for her to hand over the reins to Sherry, Charles, and Carolyn – those who had been with her from the beginning. Sherry continues to innovate and push her creative boundaries as is evidenced in her new work. She has shared her infectious passion for color, kaleidoscopes, and joy with everyone she meets and we are so honored to present Sherry Moser as our 7th "Cozette Award" recipient.
---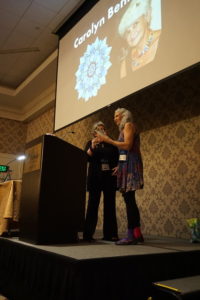 2018 Carolyn Bennett
Carolyn Bennett thinks of scope-making as a perfect combination of many art forms. When she mixes pieces of glass inside a scope, it's like a painting, and when she designs the exterior, it is a sculpture. Carolyn charted new waters when she introduced the kaleidoscope as wearable art in the form of a necklace. Carolyn has been prolific as shown by her body of work. She has made it her mission to bring kaleidoscopes to the masses and is tireless in her quest to put a scope in every hand! Photography is another passion and she is rarely found without a camera in her hand, and because of her passion we have a photographic journal of our creative growth as an organization.She, too, has received many awards and accolades for her artistry. In 1998, she received a "Special Achievement Award of Merit" for the advancement of every facet of the kaleidoscope renaissance. She received a coveted "Niche Award" and was the first kaleidoscope artist to exhibit at the prestigious Smithsonian Women's Craft Show. She was the third member of "Cozy's Crew", and along with Sherry and Charles, carried the Brewster Kaleidoscope Society on the transition to become the organization we are today. We are pleased to present Carolyn Bennett as our 8th "Cozette Award" recipient.
---