Lumie – 2018. Limited edition of 16. Signed, dated and numbered.
This handheld scopes barrel is made from various solid woods. The glow in the dark element or "lumilight" is placed in a symmetrical pattern on the top of the scope and is surrounded with Wenge wood with a Purple Heart accent. There is a wood eyepiece that is described as a "Thinline" eyepiece, made intentionally thinner than in the past to allow better viewing while wearing glasses. There are wenge feet to allow the scope to sit flat without a separate stand (Like Blissful Journey). The rotator end is black.
The turning ends are fluid filled, side lit with a black background with dichroic filters.
The cell contains Shelley's flame worked glass, a "Lucini" and 2 pieces of the Lumilight that has been heated and twisted like Shelley's other flame worked glass. One of the luminescent pieces is green like the piece on the top of the scope and the other is blue luminescent.
It has a 2 Mirror, 5 point tapered mirror system. Randy describes it as a "bliss point" mirror system. It creates a 25% larger image than previous mirror systems.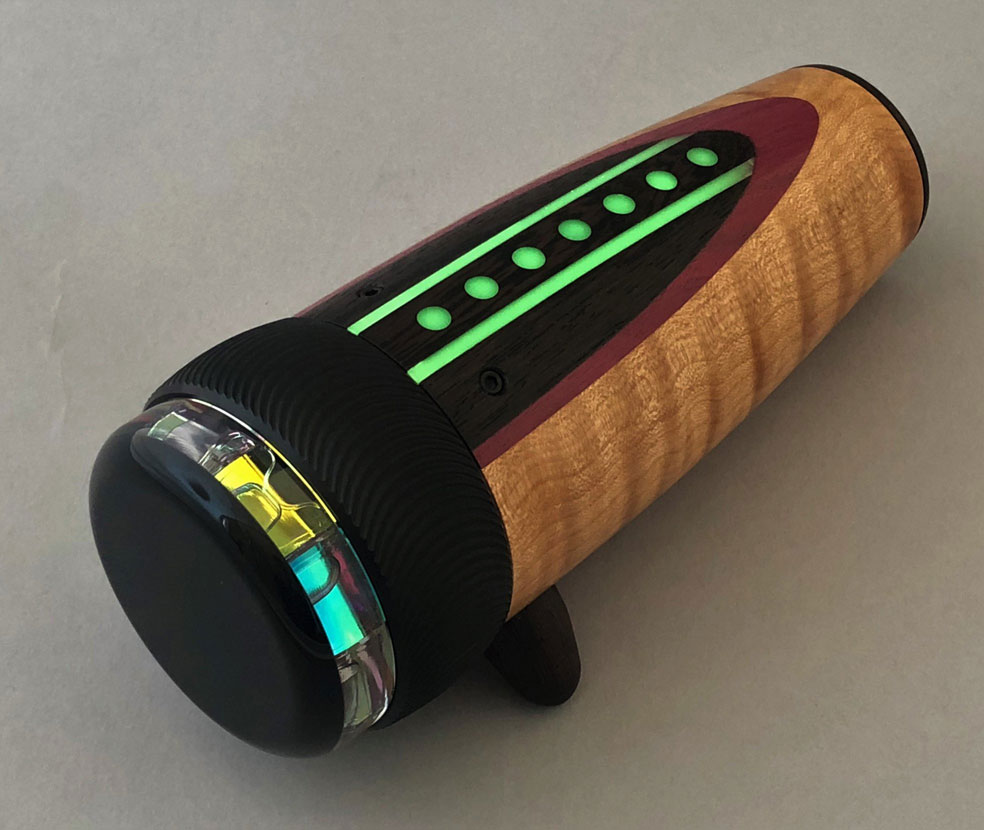 ---
Kaleidoscope
2018
:
Handheld
16
Wood
Various solid figured woods with Wenge Wood and Purple Heart accents.
1
---
2
,
5
:
Tapered
---
:
Mandala
:
Side-lit
:
Black
Yes