Class availability is subject to change. Check back for the latest information. See the Schedule page for a breakdown of what's happening when. Here's a map of the hotels meeting rooms. You can click many of the photos below for a larger image.
Click the Artist name for their BKS profile. Click photos for a better view.

After you have completed the purchase of a convention ticket you may purchase classes on the
extras
page.
---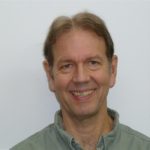 R Scott Cole
Necklace Scope
Make a lightweight aluminum and brass necklace kaleidoscope only 1/2" in diameter. Using ultra thin front surface mirror, you will be able to create a bright, active, colorful, and detailed object chamber (with dichroic, lampworked, and other assorted magic). Included is an Italian 30" Sterling Silver chain with clasp for added elegance.
---
---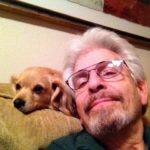 David Kalish "The Hypochondriac" or "The Doctor's Delight"
In this class you will make one of the more hilarious and out-of-the box ideas I've had for a kaleidoscope. The object cell is filled with an extremely colorful assortment of real, over-the-counter pharmaceuticals, suspended in mineral oil. It's a whole new way to take your medicine: Visually! It's called "The Hypochondriac", or sometimes "The Doctor's Delight", depending on your level of sensitivity. Perhaps it should just be called "THAT'S AMAZING!". This scope is 7" long, 1.5" in diameter. I embodied the idea in a very basic, straight forward design, because that's all it needed to be. In my class you will learn how to assemble a perfect 3-mirror system without using a jig. I will also teach the techniques I use for creating liquid cells, and so much more.
Saturday
May 14
th
, 1:00 - 4:30pm Lugano Slots remaining:9
Cost: $160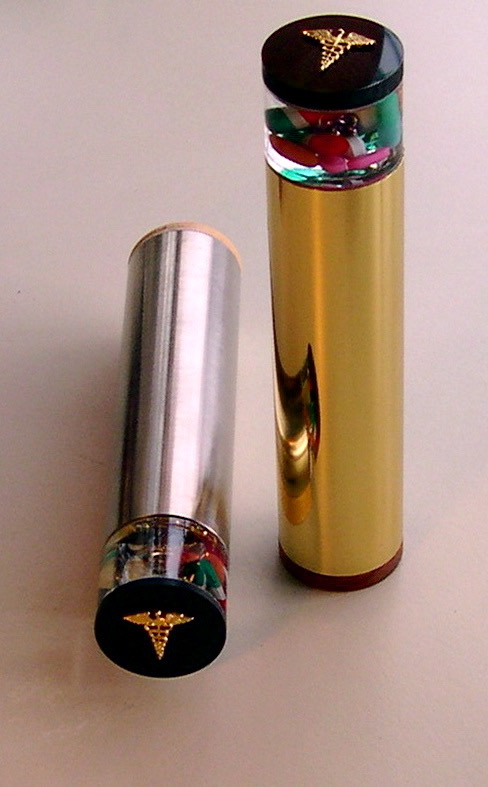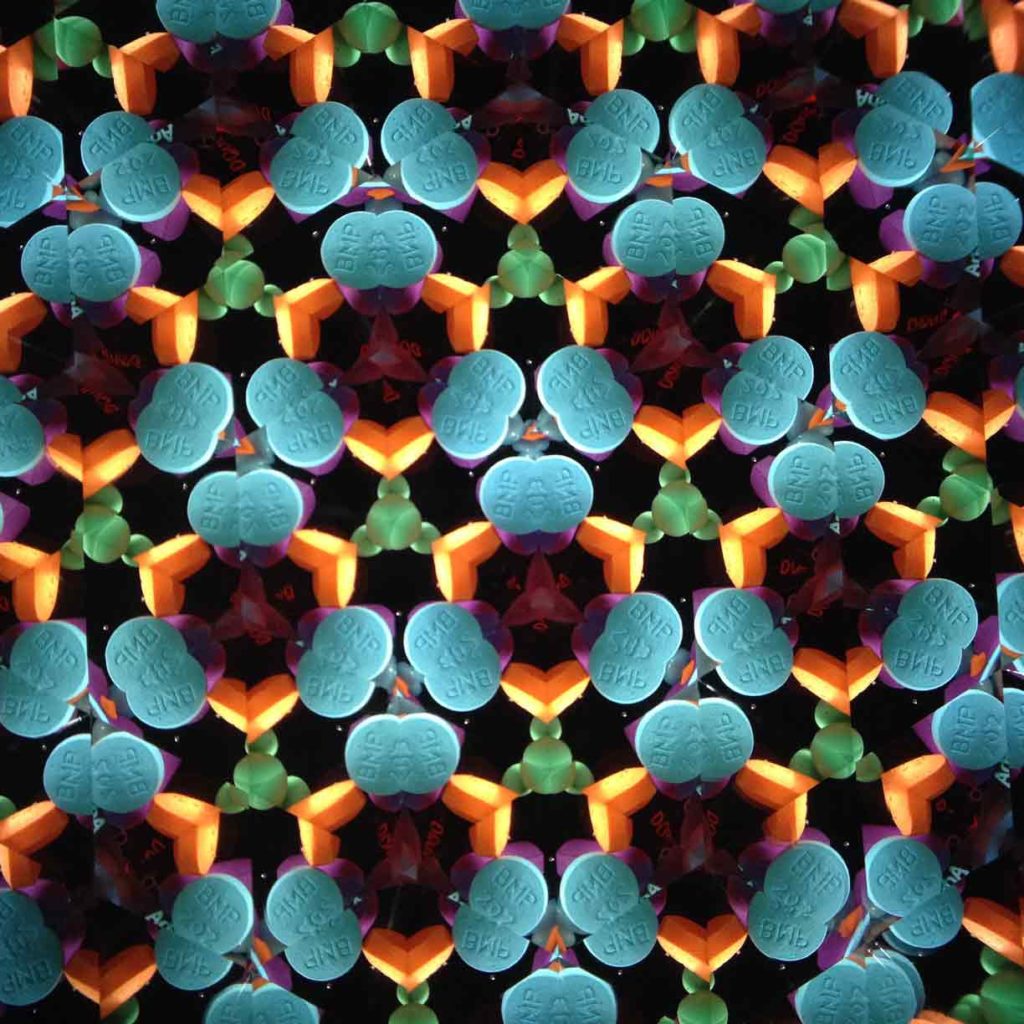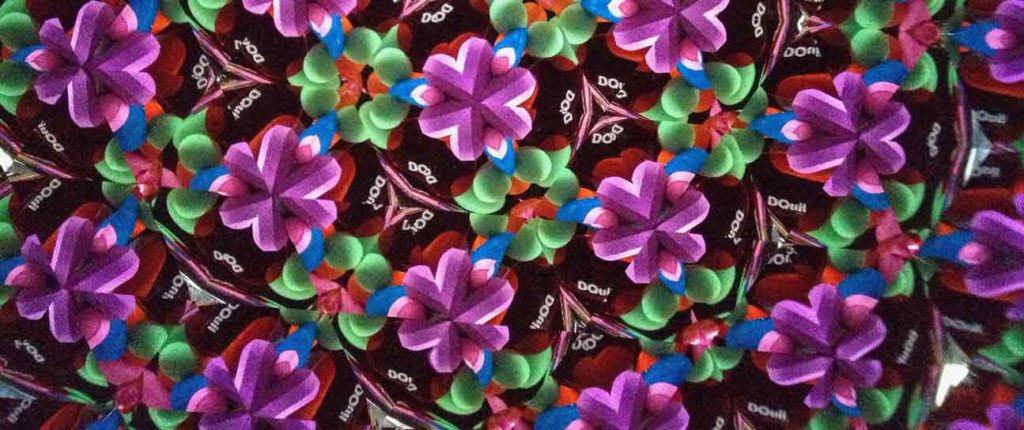 ---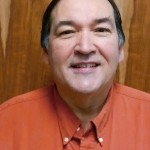 Dan Land
Pocket Fireworks
– Make a Wooden Mini-wand Kaleidoscope.Do you like fireworks? How would you like to be able to see them any time of the year (safely) and carry them in your pocket? Join me to make a beautiful mini-wand kaleidoscope (2 or 3 mirror) using woods from the nearby Appalachian forest. In this class you'll learn about my design process and how that gets implemented in making a wooden kaleidoscope. You'll choose woods, assemble a wooden box, and learn about the operations that go from that box to the kaleidoscope you take home. I'll teach you a few of my tricks while you assemble the mirrors, which you will then install into your box; along with a lens, eye-cap, glass end-cap, and a mini- wand of your choice. Ooh, Aah, Fireworks!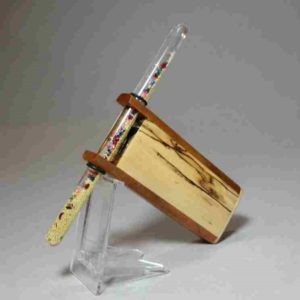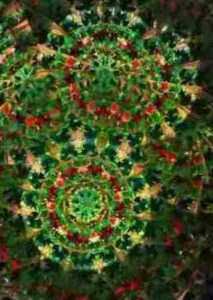 Friday May 13th, 1:00 - 4:30 Zermatt
Slots remaining:8 Cost: $55
---
Jim Riedl "Shaken not Stirred"
Participants in this class will make a Cocktail Shaker Kaleidoscope made from an actual shaker modified to accommodate the mirrors, lens and object chamber. Each participant will assemble their own 3 mirror system, fill their object chamber and then put all the parts together to complete their creations!
Wooden bases will be provided.
Cost: $110
Saturday May 14th, 1:00 PM - 4:30 Room Zermatt Slots remaining:13
---
Sue Rioux
"Balance"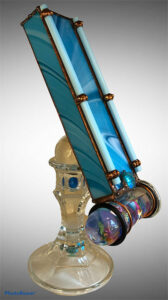 Participants in this class will be creating a Parlor Scope consisting of a stained-glass body mounted on a fancy clear glass base. The body will be soldered prior to the insertion of a two-mirror system. The image will be created with an oil filled tube built by each participant.
Glass colors may vary from the picture.
Cost: $390
Friday May 13th, 1:00 PM - 4:30 Room Lugano Slots remaining:0
Saturday May 14th, 8:30am - Noon Room Lugano Slots remaining:0
---
Sheryl Koch
"Spiral Brass Wand Scope With Dichroic glass end"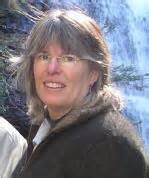 In this class you will be creating a Spiral Brass Wand Scope With Dichroic glass end. This scope will include a walnut stand and two extra wands. The mirror systems is a three mirror, modified two mirror system. The image looks like fireworks!
This is a high quality kaleidoscope.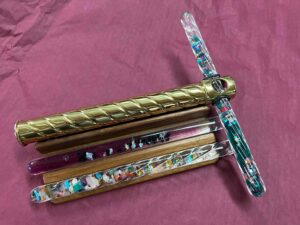 Cost: $120

Friday May 14th 1:00 - 4:30 Room Davos Slots remaining:8
Sunday May 14th Noon - 4:30 Room Lugano Slots remaining:7
---
Sheryl Koch - "Wand Scope w/Dichroic glass end" 1:00 - 4:30 Davos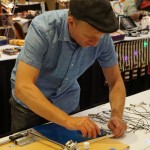 Marc Tickle
Marc is offering two different classes.
---
Nellie Bly Sky
This unique scope features an image that has three distinctly different views via one mirror system. Using 4 reflective surfaces, two of which are different dichroic mirrors, the image transitions from a golden / rose framed chorus line to a wall of square repeating mandalas to a purple / pink framed chorus line - all with one mirror system and one eye hole. Students will assemble this unique system and make their own liquid filled glass cell. The cell will then be fixed permanently to the scope body. Turning the finished scope is what changes the image as light streams in through two open windows onto the dichroic mirrors. Students will have a selection of hand made liquid filled ampules to put into their cells.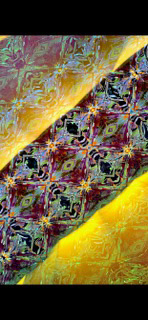 ---
Thursday May 12th, 12:00—4:00 Alpine 1 Slots remaining:0 Cost: $315
---
'Dichro-Disco'
is a mirror design using 8 reflective surfaces to achieve the image. Think of a futuristic totem reaching infinitely up and down with radiating discs of vibrant dichroic glass, along with small glass spheres rolling freely in and out of the image. Super-fun for filming through and mesmerizing to view in different light intensities and angles. Image outcomes will vary depending on how 'tight' the mirror parts are folded into the final system, but those varieties are also very appealing and mesmerizing.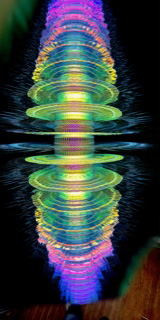 ---
Friday May 13th, 1:00 - 4:30 Alpine 1 Slots remaining:0 Cost: $370
---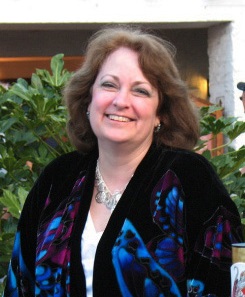 Laura Wilde

"A touch of bling"

ASTRAL BLINGS: To provide that touch of bling for a desk, night stand, or coffee table, we are presenting a one piece, 2-mirror scope with fairly simple adornments. Measuring 4 1/4" tall x 1 3/4" diameter, the bodies are aluminum, and the mirror systems are generally 4 or 5 point (snow is always 6). We will be offering a number of different wraps - prints of various semiprecious stones, a metallic color (emerald green, rich blue, silver, gold, etc.), and photo wraps of seashells, butterfies, dripping paint (have to see that one to believe it!), flowers, and more; all will have rhinestone trim and will have been sprayed with a protective UV finish. The cells are dry, and as is our usual style, the interior fill will be matched to the exterior colors.

Thursday
May 12
th
, Noon—4:00pm Zermatt
Slots remaining:
11
Cost: $66
---
BKS Convention Cancellation Policies:
Registration, Class, Table, Banquet, Flyer and all other Fees connected with registration: Full Refund less $50 cancellation fee per registration if canceled by April 1, 2022. No refunds for cancellations after April 1, 2022 or for no-shows. Processing fees will not be refunded. No refunds on membership fees. Special circumstances may be considered by registrar upon written request at the time of cancellation if after the deadline. Refunds will be paid following the close of the convention by June 30, 2022. To cancel a registration please send an email to convention@brewstersociety.com
Last update 2022-01-17