This handheld kaleidoscope has several variations within the series.  First there are variations of the body at different price points.  The standard body in solid maple and walnut was a lower price than the bodies made from exotic solid woods.   Both versions have a black anodized aluminum turning end and a dark wood turned eyepiece.  They have a turning end with a fluid cell, side lit with a black background.
The cell contents are the other variable available.  They came with a bright image, a pastel image, a SeaShora image with sea shells from the Oregon beaches, and a bright image with a prism filter.  An order form from 2001 indicated that you could get a maple scope with a pastel image, a walnut scope with a bright image, or a exotic wood scope with either a pastel or a bright image.  These cells also contained Lucini's.  All the bright and pastel cells had dichroic windows but nit the SeaShora or prism filtered scopes.
They have 2M/6P tapered mirror systems.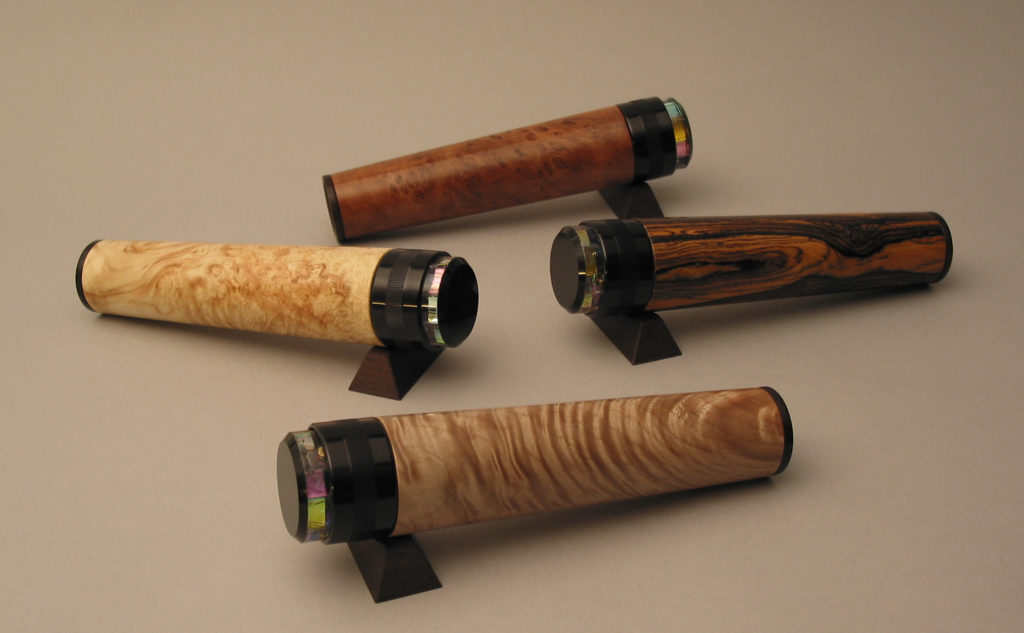 ---
Kaleidoscope
2000
:
Handheld
Production Scope
Wood
Maple, Walnut, exotic solid woods
1
---
2
,
6
:
Tapered
---
Turning

Liquid Filled Cell

Puck
Flamework Glass

Found Objects

Lucini's
:
Mandala
:
Side-lit
:
Black
Yes
Photo Gallery