The Tuxedo Junction Monochromatic Scope uses the classic black and silver palette of a clarinet as its inspiration and starting point. The result is a piece of Art Deco Steampunk.
On the outside: I have made the body and stand from reclaimed clarinet parts. The eyepiece and decorative washer on the stand are both vintage drum kit washers. The acrylic object cell is backed with a disc cut from a vinyl record. A frog from a broken violin bow sits atop the clarinet barrel to connect the object chamber. Key holes in the clarinet body are decorated with monochromatic beads, and the key holes on the stand sport irridescent soap bubble marbles. The body connects to the stand with a metal ring formerly used to connect a music lyre to a clarinet for marching bands.
The scope has an equilateral 3-sided mirror system.
In the dry cell object chamber: Continuing the monochromatic musical theme, most elements in the object chamber are black, grey, silver, white, or clear. There are the occasional accents of color, such as a bronze treble clef I cut out by hand from a broken drum cymbal, a blue striped agate bead, and a bronze guitar string or two. Other elements include: A soap bubble marble, guitar tuner gears, sheet music snippets, Swarovski crystals, micro tumbled moonstone, guitar strings in various shapes, labradorite beads, and little bits of front surface mirror.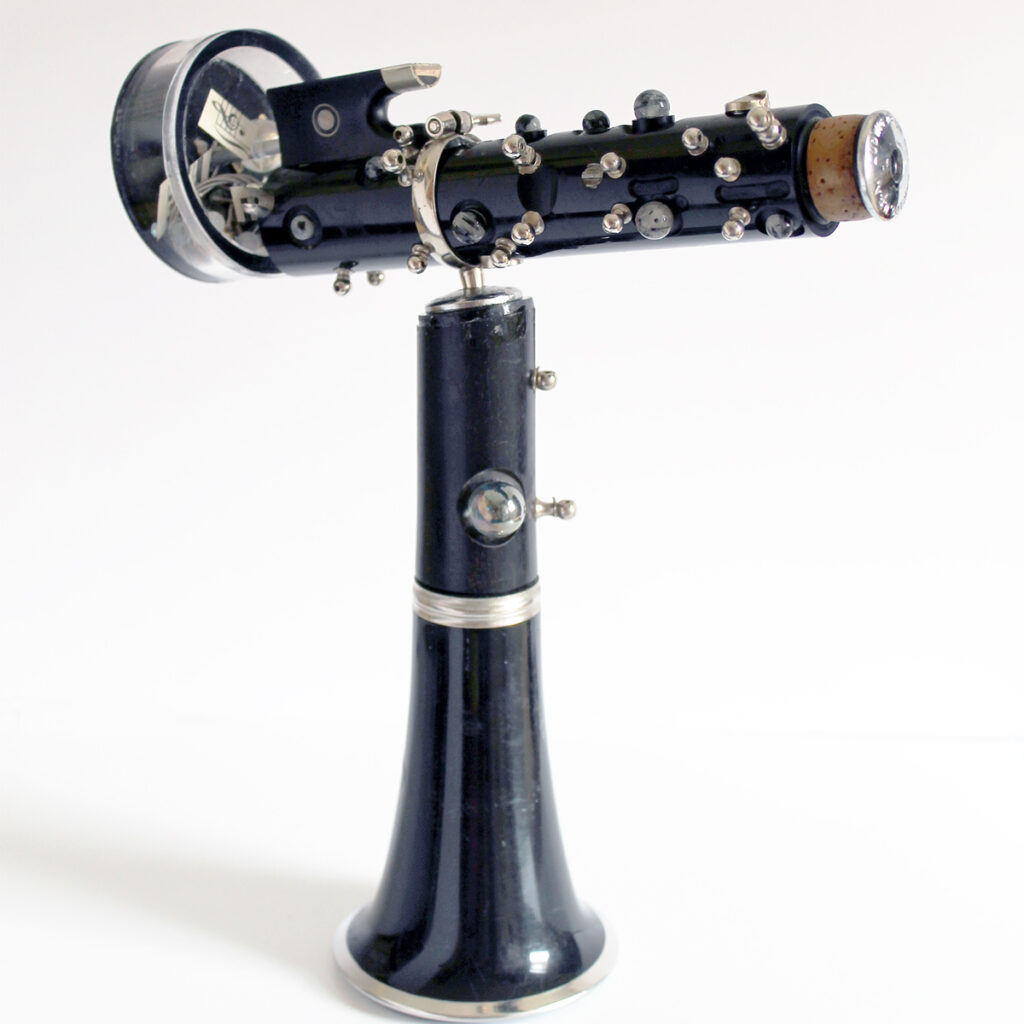 ---
Kaleidoscope
2021
:
Parlor
One Of A Kind
9.5"h x 8.25"l x 3"w
Mixed Media
1
---
3
:
Equilateral
---
:
Dry Cell
:
Found Objects
:
Full Field
:
Side-lit
:
Black
Yes
950
USD
More Information about this scope
Contact Information: wesla@weslabayweller.com
Photo Gallery