Randy Ray Skin was a PVC body scope with the body covered in dyed stingray leather.  There were two versions of the scope made, one had a clear end to the cell that was ornamentally turned and the other had a black background, also ornamentally turned.  Both were signed the same way, "Knapp 06" and the number of that scope in the edition.  The clear end version had a total of 41.  The aluminum ends were anodized to complement the color of the leather, which meant that some of them were clear anodized if that was felt to complement the leather color.  They were 2M/6P and came in bright or pastel cell.  The flame worked glass in the cells included "stringerinies" and "lucinis".
The pebbly surface is the result of calcium deposits in the skin.  There is a place in the center of the back where the bumps are larger and in a triangle shape.  If these are shaved off once the skin is dyed, the result is a white triangle pattern.  Some of the black background scopes came without the crown, just an all-over pebbly surface.
The gallery images will include black background scopes also.
The black background scopes were $295 for one with the crown and $250 without the crown.  I do not know the cost of the scope with the clear end.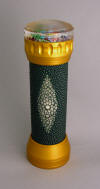 ---
Kaleidoscope
2006
:
Handheld
Open Edition
2.5 inches by 7.5 inches
PVC Pipe, Aluminum And Sting Ray Leather
1
---
---
Turning

Liquid Filled Cell
:
Flamework Glass
:
Mandala
:
Side-lit
:
Clear
Yes
Photo Gallery