Covid 19 "T" Variant Bob Tupa
There are two components to this entry. The first is The Covid 19 "T" Variant. It ia an opalescent glass   dodecahedron representing the virus with its spike proteins, The viewing port is at the center on top into a chamber of 12 first surface mirrors also configured in a dodecahedron. This "infinite" mirror system reveals speeding plasma cells going to produces antibodies to attack covid viruses in a space like environment going off into the distance in the vasculature. The virus is mounted on a stand. There is a rounded structure made of turned segmented curly maple on walnut base.  The dome portion represents the plasma cells or B cells the produce the antibodies (IGG) that attack the spike protein of the virus rendering it powerless. in the center there is a LED light scource that is dimable. However the dichroic covered viruses and plasma cells are best illuminated from a mobile light scource eg, flashlight together the full effect of changing color and a more scintillating image. The brass Y shaped brass structures that surround the dome plasma cell represent the IGG antibodies attacking the virus.
So viewers do not contract the illness we are also providing a prevention kit. This includes gloves, hand sanitizer, a variety of colored masks (3 ply), alcohol wipes, and bandaids. Most importantly there is a 100 cc syringe and 12 gauge needle for the covid vaccine. This actually is another kaleidoscope made from glass syringe. It has a tapered 3 mirror system. This gives a central round "virus" image. the mirror edges are ground so the "spike protein" rays emanate off the virus surface. The images can be varied by using a movable external light source or by rotating the scope itself. The video gives examples.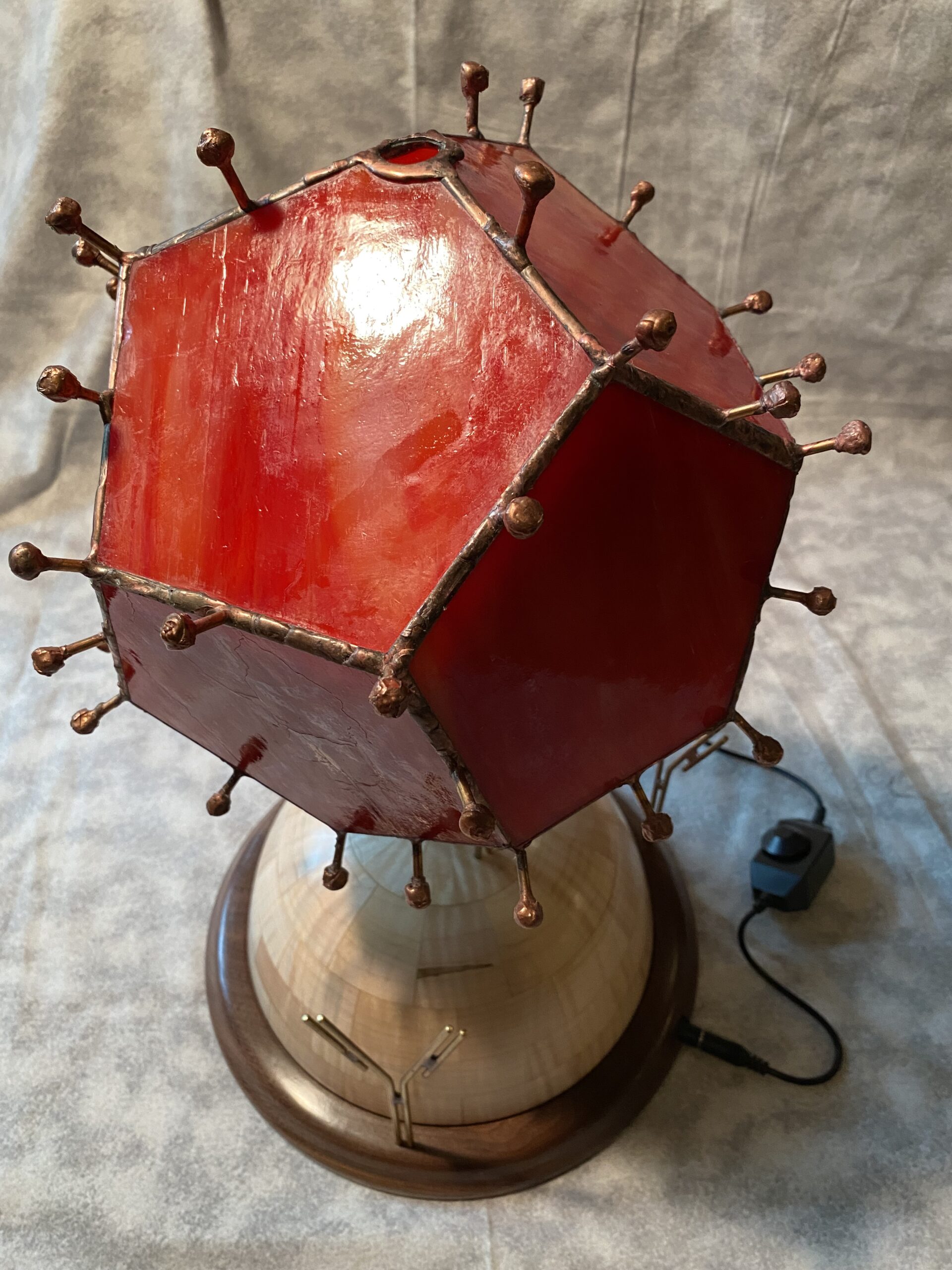 ---
Kaleidoscope
2021
10" w 15"h and 2"w 10"l
Wood
Curly maple
3
---
Mirror System #1:
3
:
Tapered
---
Mirror System #2:
Equilateral

12 Mirror Dodecahedron
---
Mirror System #3:
---
Turning

Liquid Filled Cell
Full Field

Floating Shape

Three Dimensional
:
Black
Yes
1500
More Information about this scope
Artist may be reached at   bobtupa@hotmail.com
Photo Gallery